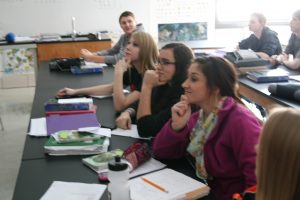 The Black River Falls School District has not met the required amount of mandatory instructional minutes required by Wisconsin Department of Public Instruction.
To date, there have been four school closures this year. Two of the snow days were already built into the 2012/2013 school year calendar. In order to meet the required amount of instructional minutes, the district will now need to attend school on Monday, April 29 and Friday, May 24. These days students were originally going to have off if we would have less than two snow days.
"I think that this is a good idea because I would rather come to school April 29 and May 24 than stay longer at the end of the year when it is hot and sticky outside," sophomore Amara Baker said.
In order to meet the minimum requirement of minutes of instruction needed, the Black River Falls School District needed to add a few extra minutes. It was brought up that the students and staff would come back to school on Monday, June 10 for a half a day to meet the requirements, but this was later decided that it was not a good idea.
"I am glad we don't have to come back on June 10 because some people will already be on vacations and the seniors probably wouldn't come back," said junior Brian Gulbronson.
Instead of coming back to school on June 10, the Black River Falls School District is eliminating the two remaining early release days of Thursday, March 28 and Friday, June 7. These will now be full days and all students are expected to show up.
"Making up these snow days is a good idea because I will be able to concentrate better because the temperature will not be as hot and there will not be as much after school activities going on as there would be June 10," said junior Tonie Johnson.
These changes have upset many students, and  have had teachers re-planning their curriculum to fill in the added amount of time.
Some students think that the voting should have been student lead and that the student body should have been able to have a say and when to make up these days. Many students have already accepted the fact because there is nothing they can do to change it.
"I think it was fine the way that it was done because it shouldn't be up to the students. I think it should be up to the district because they will choose what is easier and what is best for the students. Also, it is not only what the students prefer because it has to do with the teachers, also," Baker said.