Cheer takes on no-cut stance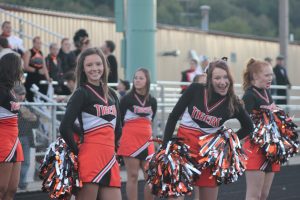 The next fall's Tigers cheerleading will still be the same, spirited squad that we have always known it for, only for this year's tryouts they enforced a no-cut policy.
Many would characterize the cut policy as harsh, and the policy is enforced with many other sports in our school, but some do seem to agree with it also.
" I feel that the no-cut policy really can be a great way to give students the opportunity to cheer; however, I feel it would be best for the cheer program to be able to cut… we want our cheer program to be strong," said junior Jessica Valentino.
" I believe being a member should be something you must work for, it can't just be handed to you," said Valentino.
There can be very two-sided opinions on the no-cut policy, but people seem to have been accepting it and embracing the new policy.
" It will be great to have so much new faces for next year's cheer season, and even though I wish there had still been a no-cut policy, I still think our squad and season will be so much fun," said sophomore Kasey Kopp.
" You should have to work hard for things you want, not just get what you want," said Kopp.
" We will only have one coac,h so practices may be different. We will have to be very on top of things so that everyone is where they need to be and doing what needs to be done," said sophomore Hannah Shankey.
by Tori Miller
" The squad will be a little bigger because of this policy, but that just means more talent and more opportunities for all of the girls. I don't think that it will be way too different, I am still as excited as I am if there was still a cut policy," said Shankey.
So everyone can look forward to next year's squad being a little larger than normal, but the more the merrier, right?
" This cheer season is really going to be amazing. I'm excited to work with the girls and mix things up. This season you can expect some new stunts to pump up the crowd, new cheers, and our new uniforms!" said Valentino.
Leave a Comment