Teacher Spotlight: A Romantic Road?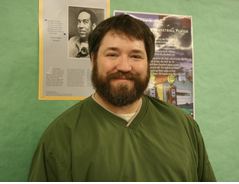 His road was long with many twist and turns. This teacher has fallen in love and had his heart broken, but there's one thing he could never hate, his passion to teach.
Brad Lobenstein teaches English, which is not entirely what he had planned for in the first place.
"I was about to go off to a college to be a lawyer, but in one night, I changed my mind to be a teacher," said Lobenstein.
What changed his mind? It was the doing of a girl. This girl was one of his crushes that changed his life.
Her comment echoed constantly in his head, "You work well with children, you should become a teacher!"
If that event had never happened, the name "Brad Lobenstein"  would only be a name in the phone book.
Leave a Comment