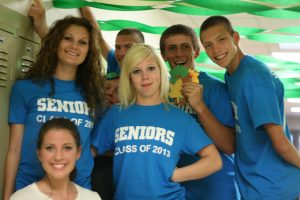 An injury is sometimes hard to recover from as quickly as you would like to. Whether it be a sprained ankle, torn ACL, broken bone, or even something not quite severe, it takes time to heal.
Senior Riley Smith knows all about this as she suffered a broken fibula on December 3 during a hockey game. Smith was skating along the boards when her leg moved out from under her, and it just happened like that.
"It was just an awkward fall," Smith said.
More severe injuries usually need some sort of rehab. Riley was off her foot, using crutches and limited to just watching practice for five weeks.
"I didn't have to do much rehab. I just had to use crutches and ease my way back into skating as the bone finally got healed," said Smith.
With Riley being out, there was a question of who would step up and take leadership of the team.
"The team handled the situation very well. We didn't lose any leadership because we have two other captains that kept us together. Girls stepped up and played positions they weren't very comfortable with but they knew that's what had to be done," said senior Anissa Flick.
"I had no doubt that the team would handle it well. There are a lot of leaders on the team this year who did (and continue to) do a tremendous job setting examples for other players," said Smith.

Riley's dad, who attends every game, was shocked at her injury.
"Riley has never stayed down from an injury before, so we were very surprised. We were also very disappointed because the coach from the Stevens Point women's hockey team was at the game to watch Riley play that night, but the injury happened to Riley in the first period, so she didn't get to play as much for the coach."
With every injury there comes a return. This past week, Riley got back onto the ice. She wasn't quite to full speed but she eased her way into it and is getting back to her normal self and routine.
"I'm so glad to be back on the ice with my team. Although I went to all the games and practices with them, it's still a completely different feeling to be playing again," said Smith.
"She hasn't really skated much, but its nice to have her back because lines will hopefully go back to normal soon.  It will also help us having her back especially against the stronger teams," said Flick.