BRFHS varsity basketball wins first game against Thorp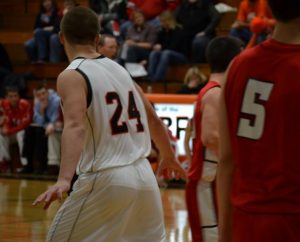 The game opened with arm ups between the two teams and with the Thorp team looking tough to beat. The first quarter opened up with some intense playing between the two teams. The first quarter ended 8-7 with BRF ahead by one point.
The second quarter started with some more intensity between the two teams with some pushes and shoves exchanged. but the Tigers still managed to end the quarter still in the lead with a score 16-15.
The halftime show was the Dance team, well dancing and then the game commenced with more pushes and shoves exchanged and a lot fouls shots on both teams. The tigers still managed to keep in the lead with a score of 11-6 for the third quarter.
The fourth quarter was an intense one with the teams racing up and down the court and some more foul shots for thorp which ended up tying the teams. With just 5 seconds left both teams called timeouts and when they final seconds commenced junior Ethan Young made a shot from the three point line to win the game. The final score was 43-40.
Leave a Comment