Becoming a "Smarter" School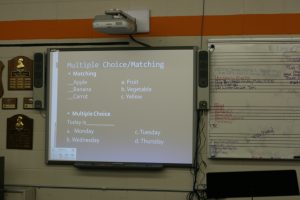 On November 16, the Black River Falls School District applied for the Wisconsin Technology Initiative Grant.
"The grant is a $75,000 grant sponsored by Cisco. If the grant were to be approved we would use the money to get Smart Boards in every classroom. Every teacher in the school district will have a Smartboard in their room if the grant is approved," said new district Technology Integration Coach Kaye Hendrickson.
Smartboards are a very useful resource in the classroom if you know how to used them. So what about the teachers who are a little less "friendly" with technology?
"At some point in the summer we want to have a day where all the teachers come in and we train them on how to use the Smartboards. Basically, we are teaching the teachers what you kids already know," said Hendrickson with a chuckle.
"I think that Smartboards in every classroom is a great idea. They are a great way to get the students involved," said Sophomore Katelyn Breheim.
The school district will find out if the grant has been approved or not in March 2013.
Leave a Comment