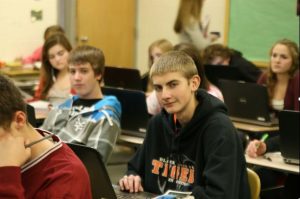 Sometimes an underdog could become a great legend.
Playing his first sport of the year, basketball, sophomore Jeremy Ekern is dedicated to do his best for his team.
"I like playing sports, but what I like more is playing them with my friends, " said Ekern.
Showing leadership on and off the courts, Jeremy excels through his studies and through life. Spending his free time playing ping pong with his friends and just enjoying what life throws at him.
As long as the will stays strong, and you don't give up, you could achieve anything!
By Jacky Lin