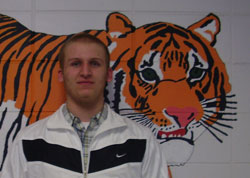 Freshman Power.
It doesn't occur to Christian Stiehl that he's the only freshman playing on the boy's varsity basketball team this year.
"I usually just play and try to have fun," said Stiehl.
Stiehl said that he was more nervous at the beginning, but by now he's used to being around the older players.
"Honestly," said Stiehl, "I don't [feel intimidated by them]."
Actually, he's pretty grateful for the chance to play against older, more experienced players.
"I definitely think that playing on the varsity team has improved my skills more [than if I had been on the JV or C team] because I'm playing guys who have been playing longer than I have and have more experience," said Stiehl.
There's no pressure-yet.
"I think next year, and the years after that, there will be more pressure on me because I will have been on the varsity team for longer than some of the other guys," said Stiehl.