Tiger Pep Band Performs at Retired Teachers Banquet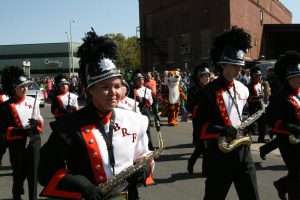 On November 15 the  Pep Band performed at the Retired Teachers Banquet.
"The retired teachers banquet planner asked the band to show the newly found school spirit and pep band was the best way to do that," said senior Camille Gunning. The band was a little unprepared for the performance.
"Well, I knew all the songs, but I wish I would've known more in advance," said junior Katherine Hegna. The band director, Paula Hardie, was absent the day the band was told about the performance.
"I had fun playing at the thing (the banquet)," said sophomore Heather Youngthunder. The band played four songs: "Eye of the Tiger," "Barbara Ann," "Stayin' Alive," and "Baby Elephant Walk."
"It was short but I enjoyed it. It looked like the teachers were enjoying our performance," said Gunning.
"It went well and it was appropriate for the situation," continues Gunning.
by Katelyn Breheim
Leave a Comment