Kicking it off with dance team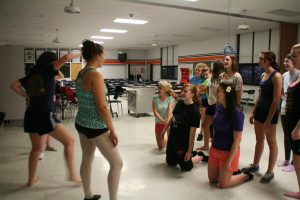 Basketball season doesn't just come with the basketball games; it also comes with a show at halftime.
There are no basketball cheerleaders, but when the game reaches half time dancers from our school put on a performance.
"So far, we're off to a pretty good start. The jazz dance number is coming along great. We all work really well together. I always look forward to being with the girls after school," said sophomore Hannah Shankey.
Students are eligible to be a part of dance team every year as long as they go through the two-to-three-day practice beforehand and make it through tryouts. They start being held about the same time basketball practice starts.
"This year is a lot different for me because I've taken on the role as a leader, and I feel like this year we're really working hard because the dance we're working on now is for competition. We really want to improve the intensity of the dances so most of the moves are more difficult for some, but that will make us look better and more experienced," said junior captain Madelyn Hoffman.
by Tori Miller
Leave a Comment