Super Mileage Vehicle Club puts it in drive for new year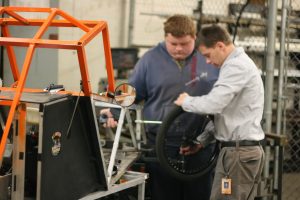 Don't know what SMV club is?
"It's a club with about 10 students that design, build, and problem solve to figure out how to make a car with the best gas mileage as possible," said advisor Jeron Cassidy.
While it may seem like fun and games, students still get the opportunity to learn new things and skills about vehicles.
"SMV is fun, and I've learned how to use metal, mechanics, and how to weld better and optimize gas mileage through brakes and use of gas," said sophomore Nick Raifsnider.
The car they built last year is in pieces due to it flipping last year at a competition in Eau Claire, but that has not stopped them from rebuilding. "Our car from last year and were thinking about building a new car for next year," said junior Bradley Windsor.
Talk to Cassidy in the tech ed wing about taking the club for a test Drive!
Leave a Comment