Sibling Rivalry: Remington and Grant Stittleburg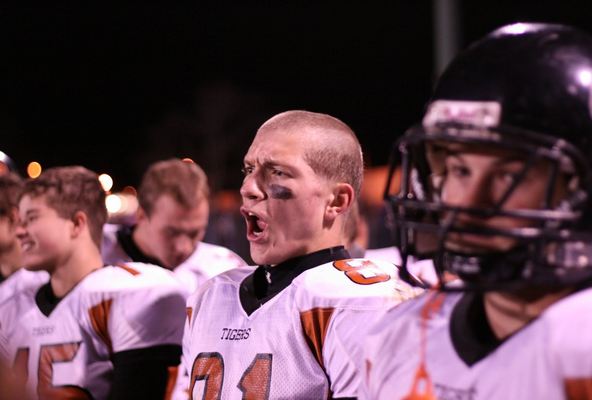 On many occasions, siblings seem to compete more then anything else. Like the gladiators of Rome, they were meant to fight to the death, weren't they?  The bond between siblings is a unique bond, especially in twins.
Grant and Remington Stittleburg are high school seniors who are both on the football team and who both enjoy competition, but there also many differences in them.
" I always beat my brother in everything," said Grant.
Remington has a similar opinion, but sways it more towards his favor.
"I'm a little bit taller, but not by much, and I am definitely smarter than Grant," said Remington.
Both think they are better than one another in some way. Remington self-proclaims his intelligence, while Grant self-proclaims his sharper mind and better physical ability over his brother.
Their relationship with each other is clear, and like most siblings, there's those pet peeves that they pick at.
"Remington is annoying in the things he says, and his quirky attitude," said Grant.
"We seem to be together all the time. We spend every second together," said Remington.
The two are identical twins with identical hobbies.
"We do exactly the same things," said Grant.
"We keep everything the same. We do most of the same activities," said Remington.
Their love of different things may come from a variety of available activities at home. Grant says that they only got mixed up as little children. Remington sticks to his mom for most of the mix-up. Because they look alike you would think that they compete for their own spotlight. Well you would be right. Grant and Remington love competition and especially love competing with each other.
"We are very competitive," said Grant.
"Competition runs very high between us," said Remington.
If you ask, there's usually something good about having a sibling. Because Grant and Remington are twins, there are a lot of benefits.
"I like that we get to compete a lot and that I have someone to play with," said Grant.
"I love that I have someone to play ping pong with," said Remington.
It seems that Grant and Remington seem to be the same, and even past the skin. The two share a close bond that can only be described as a sibling bond.
Leave a Comment