Girls basketball: Ballin' up a new season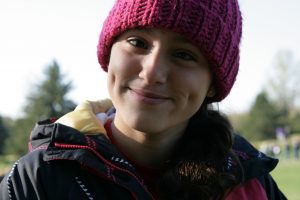 It's time! Girls basketball season is starting, and students at BRFHS know what that means. This year the team is hoping to skip through the slow part of things and jump right into winning games.
"We started off slow last year, but this year will be better as long as we bring our positive attitudes and do work from the beginning," said sophomore Gabrielle Servant.
Although there are only two seniors on the team, the girls are still looking forward to a positive year with a lot of wins as an outcome. Having a small team of girls doesn't change the fact that they will always give one hundred percent.
To help out the number of girls, there are a few freshman who are excited to be a part of the team.
"I have played basketball for six years and I love the sport! I am really excited to just bond with the girls and work hard this season," said freshman Jennifer Taylor.
Not only does being a part of a team help bring students together, it also helps them leave their comfort zones and meet new people. Teaching them discipline, responsibility, and how to show respect for others, basketball can help these girls in many ways.
There are many characteristics needed when being a member of a team, or even to be considered a good team player.
"The most important quality a teammate should have is a positive attitude. Also, they should be hard-working so that you can depend on them and they can help push you forward," said senior Maria Lee.
There are many ways to extinguish past years' mistakes and ways to improve things that may need a little bit of work.
When starting a new season, teams should have a game plan in mind, helping them have goals for that year and a list of things to get done.
"Do all of the little things right, don't cut corners," said Lee.
"Starting off better this year will help us a lot," said Servant.
Leave a Comment