Rufsholm finishes first season as AD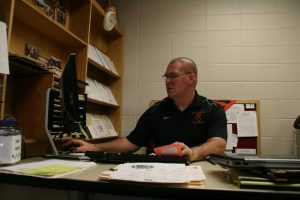 There is a new face sitting in the activity director's office–former middle school teacher Jim Rufsholm.
"I love this new job. I enjoy  working with the athletes and the coaches. I just love it," said Rufsholm.
Rufsholm applied and interviewed for the now full-time position in July.
"I've always thought that this would be a great job, and now that this year, it's a full time job. I figured this was the perfect opportunity," said Rufsholm.
Although it is a big change and a lot more responsibility, Rufsholm is adjusting well from being a physical education teacher at the middle school to being the activities and athletic director for the middle and high schools. Rufsholm helps out the coaches a lot with setting up sporting events and contacting all the people needed for the event.
"Mr. Rufsholm was very helpful to me during the girls tennis season. He was there the whole day at conference including squeegeeing off the courts with us early in the morning," said girls tennis coach Jared Johnson. "He is very supportive of me as a coach and overall just the right guy for the job."
The position requires many organizational skills and people skills, and so far Mr. Rufsholm has hit the ground running.
"I am the person who helps the coaches schedule the buses if they need help. I also schedule the sporting events, the officials for the event, the workers who help run it. I also try to make it to the events and supervise them," said Rufsholm.
It may seem that all the job consists of is scheduling but it's a lot more than that. While Rufsholm may make it look simple, it's not an easy job.
"Yes, this job is very challenging. I think the hardest part about it though is that there are so many deadlines and dates to meet," said Rufsholm. "The day of the event isn't just going to wait until you are ready for it to happen."
Although Mr. Rufsholm is not a new teacher to the school district, he is adding to all the changes here at the BRFHS this year, from a brand new assistant principal to a new schedule that we are all still adjusting to.
"Mr. Rufsholm seems to not only be doing a good job with the new position but he is also adding a new boost of enthusiasm to it as well," said junior Emily Hammes. "He helped out the tennis team a lot when the  bus scheduling went wrong and he was even there at conference helping out."
Leave a Comment