Spotting a Trend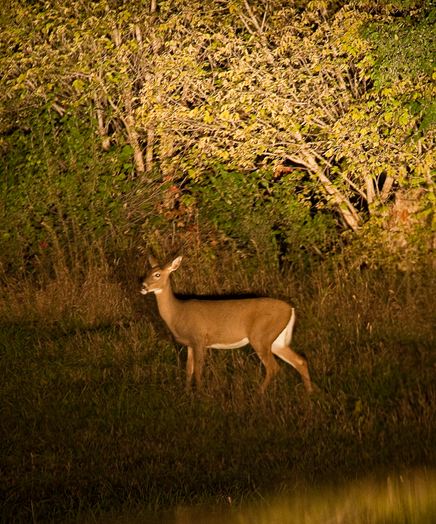 With the leaves falling off the trees and football coming to an end, many of our students and staff are gearing up for the gun hunting season with deer shining.
When the frost hits the morning ground and the nights are declining below freezing, deer become more active as they go into rut. Deer also find nights to be the safest. That is the perfect time to go shining.
"Shining is not hard at all," said junior Nathan Slenczka. "All you need is a good pair of binoculars and a bright spotlight."
Along with those items, it is very wise if you go with multiple people. For safety reasons, you will want a permanent driver that stays focused on the road at all times unless completely pulled over. It is illegal to have any firearm or weapon in the vehicle when shining even if cased. With safety concerns comes common sense. Do not shine near houses and at other passing cars. Don't ruin the fun of shining by ending someone else's fun, or even yours.
Tips for a successful night out shining
Bring friends
Bring along a spotlight and binoculars, and a hat and gloves on those colder nights.
Drive slow and scan all fields from back to front.
Have an idea on where you are going.
Go out an area with many corn or bean fields. Also valleys and swampy areas are very good to go shining!
Have Fun!
"I go out at least twice a week and a maximum of 5 nights a week," said Slenczka. "School work and sports can contradict when and how much I go."
Do not give up on it if you don't see much! Its all luck with timing and what area you are spotting. Plus, some nights, deer aren't as active as others.
"I am not a very good shiner ," said junior Jacob Gerzsik . "My luck isn't the greatest when it comes down to it, but I continue to go with my friends and once in awhile I will see a nice one."
"I have pretty good luck," Slenczka said. " I see about 50 deer a night, in which only a few are bucks. Once in while I see them fight, which is something that everyone would enjoy!"
If you ask people where the best spots to shine are, most will stay mute.
"The only person I tell where I go shining is my dad. I don't like to spill the beans, mostly because I don't want them continually going to my spot and maybe ruining the fun," said junior Alec Muth.
Shining is an activity that anyone can participate in. The excitement it brings to many is something that has them going out for more.
Leave a Comment