Football captains lead team into round IV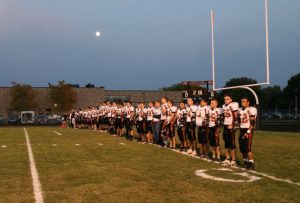 "The ultimate measure of man is not where he stands in moments of comfort and convenience, but where he stands at times of challenge and controversy," said Dr Martin Luther King Jr.
Four captains–seniors Grant Stittleberg, Bryce Kopp, Jordan Millis and Nathan Helstad–led the team out from under the shadow of the 2011 season to an 11-1 record as the 2012 season closed.
A leader can be many things to many people.
"Captains motivate others and set an example for others to follow," said defensive back Grant Stittleberg.
"To make sure everyone is doing their job and communicate to the rest of the team what needs to be done. He should not only know his job but others also," said middle linebacker Bryce Kopp.
Captain are chosen by the juniors and seniors. "I feel like I have the traits that most leaders have," said Kopp. "I was chosen to be captain for the fact that I can lead by example, lighten the mood at times, and keep people together but also be serious when the time comes," said receiver Jordan Millis.
There are not set guidelines that a captain has to follow, but each has to be able to make good choices, and make them quickly.
Captains are not chosen by their athletic ability or the way they look.
You have to prove to others that you have what it takes to be a leader. "People must have seen me as a leader," said Stittleberg. "I have not missed a lifting session all year," said Helstad. It takes dedication for a person to be a captain.
The BRF Tigers are 11-1 this year coming off of a 1-8 year.
"It's a complete turnaround from last year. It's been lots of fun for everyone in the community," said Millis.
"I think the team came together and got a lot closer to one another from that of last year. Also, our guys are a lot more physical and know their responsibilities. The team has came along way since last year," said Kopp.
Having fun and playing football are the team best qualities. "I couldn't imagine having better teammates, coaches, or a better senior year. I have loved every minute of it," said Helstad.
Leave a Comment