No end of terms final exams welcomed by some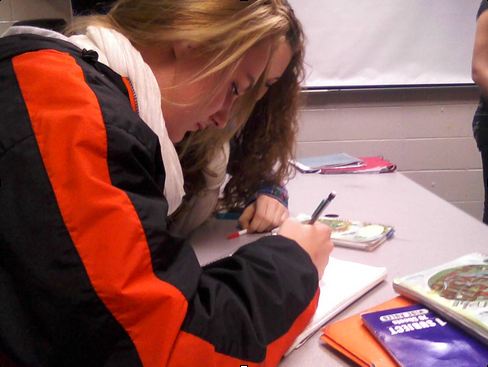 In years past, students have had to take four end of term finals. As a result of the new A/B scheduling, finals have been cut to twice a year: one in the middle of the year and one at the end.
"I think I will enjoy having two finals instead of four," said freshman Hailey Collins. "I also think other students will like it, too," she said.
As a freshman, it would have been a change either way. Last year in the middle school students just took one big test for each class at the end of the year, but Collins still believes she will enjoy this better than if it were four exams.
"I'm not a fan," said senior Darin Niemi, "I just see it as more work at once and more work to do," said Niemi. He also believes other students feel the same way, and that he would rather it be back to the way it was.
The students who dislike the idea of only having two finals did not see anything positive about it. They were either for it, or against it. Some even talked about not being able to study for eight classes at once.
"I think it is going to be too much work at once," said sophomore Christian Moreno. Moreno says it was easier when they were spread out throughout the year, and how now it is going to be eight classes we test on at once instead of four.
Not all feedback was negative, though. The workload on teachers will be less and it will be less testing.
"I have mixed feelings on having only two finals this year," said health teacher Shawn Moretti. He says it will be trial and error, and that it is going to be more responsibility on the teachers to make sure their students know the material.
Leave a Comment