FCCLA Members Sacrifice Cluster Experience for Nationals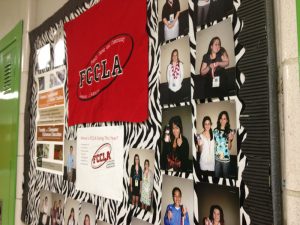 Family, Career and Community Leaders of America (FCCLA) students will no longer be attending the 2012 National Cluster Meeting in Reno, Nevada this weekend.
According to FCCLA adviser Tina Gilbertson, the price of traveling to Reno was the biggest factor in this decision. Gilbertson said that to go to Reno for two days would cost FCCLA students the same amount of money as a seven-day, national conference in Nashville, Tennessee will cost them this summer.
"Financially, I thought it was a better plan for the students to save their money, have the time to fundraise, and then be able to attend a seven day conference this summer," said Gilbertson.
Both Cluster and Nationals provide important experiences for FCCLA students, and students will be missing out on some of those experiences.
"[FCCLA members] would miss some more leadership opportunities that they might gain," said state officer, FCCLA Secretary and Vice President of STAR Events Madelyn Hoffman. "There will be different workshops there… some of [the workshops] would be really helpful, like 'Oh, I never knew that, that would be really cool to do.' But then other ones would be like 'Oh, this is boring, I just want to get out of here.'"
Hoffman believes that missing out on Cluster is a disadvantage for newer FCCLA members.
"A lot of the new freshmen and sophomores were going to go, but now they won't be able to learn more about FCCLA and get those experiences that most of the older kids had," said Hoffman.
However, both Hoffman and Gilbertson also believe that the trip to Nationals is worth more when considering both the cost and the entire experience.
"In the summer, when we go to Nashville, they have some of the same speakers, but they also have the competitive element. I think that that's a little more valuable, just due to the fact that they [FCCLA members] can network with students that have actually done projects, ask them how it went in their community, and maybe come back with ideas on how to improve our community," said Gilbertson.
Alumni, and past state officer for FCCLA, Caitlin Nelson agrees that Nationals is a more valuable experience for present FCCLA members.
"Nationals is far more exciting, and has a greater number and variety of opportunities for students…[by not spending the money on Cluster], if they qualify for nationals, they won't have to worry about coming up with all the money to go. They will have the well earned opportunity to compete," said Nelson.
There was one other important factor that Gilbertson had to consider for Cluster, that had nothing to do with expense; a winning football team.
"I knew our football team was so fantastic we were going to make the playoffs. And I'm actually glad at this point that we made the decision because it would have been very difficult for students to miss a playoff game, versus going to Reno, especially when we are so proud of our team this year," said Gilbertson.
Leave a Comment