Staff changes focus session policies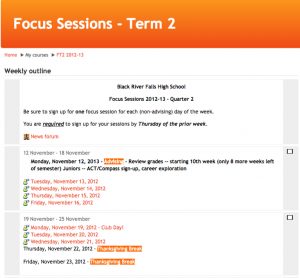 Some people believe that the moodle program has become more of a hassle than anything. To help make things a little less stressful for the teachers here at BRFHS, a few small changes are going to be made.
"The goal is to make things easier for teachers and at the same time, teach the students a little responsibility," said principal Tom Chambers.
Students will have to be signed up for focus by Thursday of the previous week. If a students is not signed up for a moodle session, there will be consequences assigned.
"The only problem that I encounter when signing up for focus is that sometimes I have a very busy week and forget to sign up for moodle," said junior Christy Aleckson.
The new changes to the focus sessions will become effective at the beginning of the new term, November 12.
by Sonja Cook
Leave a Comment