High school prepares for emergency weather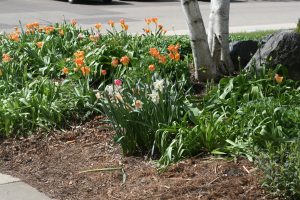 With spring in the air, there are a lot of different weather conditions that can change quickly. Assistant Principal Mark Weddig  gives some insight on what he does for weather emergencies.
When there is a weather emergency, Weddig gets the school organized and ready with a plan that he and the teachers know.
"We have [a] plan that encompasses the entire school where every student should go from every classroom to to be safe," said Weddig
The plan is simple but has a set schedule.
"The plan is reviewed before the school year starts and then we do a drill for the tornadoes in April," said Weddig
Weddig is the only one that actually works on the plan. He gives the plan to teachers to look over what they think about the plan. If they have a problem with the plan, they discuss possible changes.
In case of an emergency, there are signs around the school that inform students and staff where to go.
"It is a copy of the whole school and where all of the classrooms should go in case of a  weather emergency. There is also a sign given to each teacher and it tells where that class is to go. This is put there so if the teachers forget, or there is a substitute, or the students don't know
where to go,  they can then look at the sign on the way out," said Weddig.
Besides severe weather emergencies, fire drills are also an important part of the school.
"One time this year the fire marshal came in [when] we had a fire drill. To make sure that the teachers were taking headcount, he took four or five students from the halls when the drill was going on. We also blocked doors to see how the teachers would react if there was a fire behind that door," said Weddig.
Weddig works with the National Weather Service. They send the information out to him about the storm or whatever is happening. Next week they will be calling him about the tornado drill that has to be done by every school in the state.


Leave a Comment