Physics students learn science in a "real-world sense"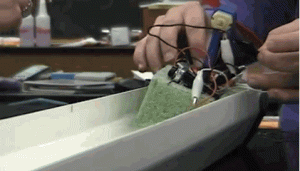 Science teacher Donna Wojciechowski created a new science project in which students must plan out, design and test a boat that can carry three tootsie rolls across a water trough.
"The goal, first of all, is to have kids actually design," said Wojciechowski. "To work and design a boat that can make it across an eight-foot trough. Part of the difficulty is, especially in a class like Physics, is kids are really good at figuring out problems on paper, but I wanted them to figure out problems in a real world sense. The minute you actually put your boat in the trough, it makes you think of things in a more…open-ended way."
Many students ealizing it was much harder than expected. Though senior Danie Duffy knew it wasn't going to be easy, she didn't realize how difficult it really would be.
"I knew it wasn't going to be easy, but I didn't realize it would take five prototypes to get it right," said Duffy. "So it was harder than I thought, yeah."
Seniors Lindsey Fox and Emily Rodenburg felt Duffy's pain. For them, getting the boat to float was the hardest part of the experiment.
"We had a lot of struggles," said Fox. "We had to make three different boats just to make it sturdy enough to float."
In the end, all groups had a boat they could run with. Though the project was meant to be a friendly competition between the groups, most students were happy with a successful run, even if it didn't have the greatest acceleration.
"It went really well once we finally got it," said Fox. "It wasn't the slowest time, so we were happy with that. We basically just wanted to get across the trough without it falling over. So once that happened, we were very happy."
Wojciechowski believes the students did well, and that the project was a worthwhile experience. She was glad they were all successful in the end.
"I would say for some of the groups it was more difficult than they anticipated, but I was pleased they all rose to the challenge," said Wojciechowski.
As of now, Wojciechowski isn't sure if she will bring back the experiment next year, but if she does, she has one piece of advice.
"If at first you don't succeed, try, try again."
Leave a Comment