Received grant inspires BRFHS to get healthy, to get well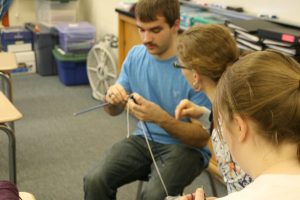 Though school was cancelled Wednesday, February 29, the Leap Day activities were rescheduled for the following day Thursday. The idea for the health and wellness mini-courses stemmed from an email Principal Tom Chambers received regarding a Fuel Up to Play 60 grant.
"I had received an email for the Fuel Up to Play 60 grant, and looked at it and it was connected to the NFL, and [it] talked about health and wellness, nutrition, fitness in schools," said Chambers. "The grant was a $1,000 grant to the school to help initiate fitness or supporting fitness in nutrition programs."
From there, Chambers sent the grant to At-Risk Coordinator Alan Barczak, who then formed a committee, got permission from Superintendent Ron Saari, applied and eventually received the grant.
"We then started to plan this day to kick off the program," said Chambers. The check will be used for the purchase of new equipment in the Physical Education department. Besides attempting to improve the Physical Education program, the Leap Day was inspired by the grant.
"We started talking to the teachers, and the teachers were all very creative and came up with ideas for the sessions that had to do with fitness and nutrition," said Chambers.
Activities that tookplace were of wide variety, varying from chess to kick-boxing, and swing dancing to snowboarding. English and Social Studies teacher Brad Lobenstein took part in the Bruce Mound trip with Art and Design teacher Laura Duvall. He was able to try something new.
"I was one of the chaperones that went out to Bruce Mound. [I] watched the people snowboard, ski and tube," said Lobenstein. "I also got to try doing that myself. I am not much of a snowboarder. I tried it once and rode my board down the hill. On my butt."
Alike Lobenstein's snowboarding attempt, the mini-course-like day was a trial and error. Chambers hopes the students and staff enjoyed the day.
"I'm anxious to hear from all the groups and all the teachers and kids to see how they enjoyed the day," said Chambers. "Overall, I think it was a success."
Though the day was considered a relaxing one, allowing students and staff to take a break from their normal schedules, the day also placed an emphasis on health and wellness.
"It think it [health and wellness] is important because if you look at the statistics, there's a very large number of children…who are overweight and obese and it's an epidemic that creates health problems throughout their lives," said Chambers. "So, it's something that's really important for students to think about, and to think about how to lead a healthy life, how to be physically fit and how to be nutritionally healthy in the way they eat. I thought it was important to use this as a way to help get the message out to the kids and start build some strong habits in that area."
"We're just hoping that it's a sign to the students that nutrition is important for good health," said Chambers, "it's important for learning."
Leave a Comment