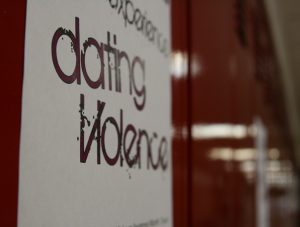 Teens against bullying others, otherwise known as TABO, is one of the newer clubs at BRFHS. TABO gives participants a chance to make a change, against bullying.
TABO has been putting up posters, trying to get the message around the school to stop bullying and dating abuse. Each poster tells about a different kind of abuse, how it can affect you and how you can stop it. Members are in progress of making a video. One member of TABO, sophomore Merrissa Spurling, is excited about starting.
"Right now we are shooting a video for YouTube. I'm very excited to be working on it, and being apart of it, it's going to be really cool, and informative," said Spurling.
TABO is also getting ready to talk to the middle school about bullying.
"Right now we are finding activities, then we will be getting trained to go talk to the middle school kids. We will be talking to them about bullying and dating abuse, and what they should do if it happens, or if they see it happening," said Spurling.
Sophomore Allison Sweeney also tells what will be taught to the middle school kids.
"We will be going over and teaching the middle school levels about self esteem, social awareness and anti bullying tactics," said sophomore Allison Sweeney.
TABO is also in the process of coming up with more activities to do throughout the school.
"We are brainstorming ideas for campaigns, posters, training, videos, etc. We already made some posters, which are up around the school," said Sweeney.
In TABO, they focus on member equality. There is not one single leader that runs it all, but instead, everyone gets a chance to share their ideas.
"We don't have specific roles. We basically have each other as supporters. We share 'roles'," said Spurling. "We just want to help younger kids and our classmates."
Though many find it difficult, TABO members feel as if they are making a change within the school.
"In a way yes [I feel like I am making a change], especially to those who are being bullied. It shows that they are cared about," said Spurling.
Sweeney agrees.
"I definitely think we are doing a great job," said Sweeney. "I love hearing people walk through the hallways talking about them because then we know that people are actually seeing them and paying attention."
Sweeney would recommend the club to anyone, TABO is welcoming any new members.
"I love TABO, it's a lot of fun," said Sweeney. " It's a great club to get involved in."