Students plan for the new year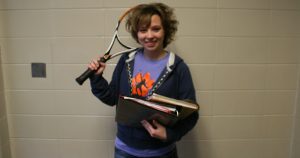 While some haven't given a thought to New Year's resolutions, others have everything planned out.
"This year, my resolution was to not watch as much TV because it affected my time with spending time with family and my homework," said sophomore Cheyenne Iverson.Watching too many MTV shows like Parental Control and Tough Love, Iverson has lost her time for family, homework and piano lessons."For next year, my New Year's resolution is to practice the piano more, and get better at it," said Iverson.Sophomore Kenzi MacIntyre has really improved in her academics, but wants to further improve them and she wants to join tennis and exercise more.
"This year, my resolution was to work harder at school, in general, " said MacIntyre.
Guidance counselor Sue Leadholm says that the main focus for school work is having time to do it. Leadholm suggests completely filling out your assignment notebook to keep track with classes. Make a schedule set up for a week for yourself and edit it on the way.
"My resolutions for next year is to play better in tennis and to do better in school," said junior Erin Peterson.
Leadholm says that planning is a key way to living better. When it comes to food, plan out what you're going to eat for breakfast, lunch, snacks, in a food journal.
When you have something you want to achieve you need the right tools to achieve those goals, like a food log for eating concerns and a workout sheet for exercise logging, says Leadholm.
According to Leadholm, exercise, like school, is a priority. You need to schedule your workouts on a workout log, and same goes with eating. If you miss a day or misbehave one day, make a commitment on doing it the next day.
From the most common to the most bizarre, resolutions common among many students and help students and faculty achieve their year-long goals.
Leave a Comment