Markhardt recognized for excellence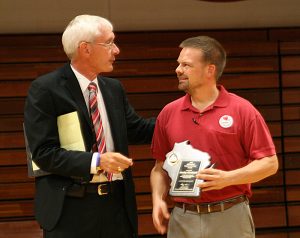 "My announcement today has something to do with excellence, a part of excellence found right here at Black River Falls High School," said State Superintendent Tony Evers.
The part of excellence that Evers was talking about was Agricultural Education teacher Brad Markhardt, who received the High School Teacher of the Year Award at a surprise assembly on September 2.
"[Teaching is] like a vocation that came to him," said Principal Tom Chambers. Not only do his colleagues have a high opinion of him, but his students do, too.
"After they called his name, I wasn't surprised because he's such a great teacher," said sophomore Emily Stewart.
While this award is certainly a nice pat on the back, it also brings with it a lot of new responsibilities.
According to Candidate Subsidy Administrator Elaine Strom, Markhardt will have to learn how to handle the media and how to make statements. For an opportunity to represent Wisconsin at the national level, he will also be interviewed along with the other four Wisconsin Teachers of the Year.
All-in-all, it's a pretty big deal, and Strom advises BRFHS students to "put it in [their] diary."
"It's really nice that at least one of our great teachers is getting this reward," said District Superintendent Ron Saari.
Of all the great teachers in and out of the school district, what made Markhardt stand out above the rest of Wisconsin's teachers?
"[Markhardt stood out because of] his teaching techniques, good rapport with his students and his sound connections with the community. All those things are important," said Evers.
Through dedication Markhardt has been able to achieve all these things.
"I enjoy my job, I love my job, I work hard at my job, but that's not unlike any others," said Markhardt.
Evers emphasized the need to recognize excellence in the teaching profession, and Markhardt's love of teaching and his work ethic have carried him to the kind of recognition often reserved for others.
"We spend time and effort honoring great athletes and entertainers and scientists. We should also reward our great teachers," said Evers.
This piece was team reported and written by Rikka Bakken and Joshua Hanson.
Leave a Comment