Markhardt Named Wisconsin's Top HS Teacher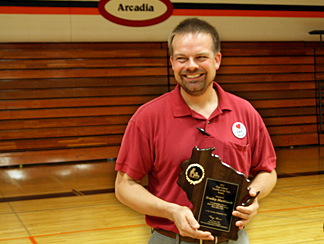 "Have you ever had to keep a secret?" asked Principal Tom Chambers at a surprise assembly Friday morning in the Sam Young Gym.
For Chambers, the secret was a big one to keep. It's not every day, every year or every decade that a teacher at Black River Falls High School is chosen as the Wisconsin High School Teacher of the Year, but this year the honor went to Agriculture Education teacher Brad Markhardt.
"He was born to be an excellent agricultural-ed teacher," said Chambers. "Year round and around the clock he's always dedicated to agricultural education."
To keep the event special, Chambers and Superintendent Ron Saari kept news of the award under wraps. A week before the ceremony, Chambers informed Mr. Markhardt's wife, Annette Markhardt, so the entire Markhardt clan could be involved.
"The surprise was pretty hard to keep," said son Zachary Markhardt. "We got a phone call right before we left that Dad checked in and asked 'Um, why is Jacob supposed to leave school at 10:00?' and my mom was jumping up and down like 'What the heck?! It's out, it's out!' It was pretty intense."
Of Mr. Markhardt's four children, only Zachary and Jacob were aware of the award. When Evan Markhardt was asked by Assistant Principal Mark Weddig if he knew what the surprise assembly was about, Evan replied that he had no idea.
"You're going to like it," was Weddig's reply.
The objective of arranging a whole-school assembly involving Markhardt's family, school district-level officials and the state superintendent of schools while keeping the whole event a secret from staff, students and the honoree was, in the end, achieved.
"Just so you know, I had absolutely no idea," said Mr. Markhardt.
Mr. Markhardt commented during his acceptance speech that the only bad surprise was his middle school pizza-making day, which he had been anticipating for a while, was interrupted. The rest of the secret was humbling.
"This is overwhelming, and I just want you guys to know that it is an honor and a privilege to be able to be a teacher," said Mr. Markhardt.
This piece was team reported and written by Rikka Bakken, Kristin Getter and Joshua Hanson.
Leave a Comment