Hockey Seniors Take Freshman Under their Wings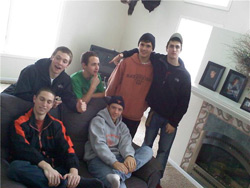 As the end of the hockey season approaches, we here at the Paw Print have chosen to spotlight a few seniors on the team who have taken the time to bring several freshman under their wings for the season. Senior Joel Millis began the trend by bringing in freshman Matthew Puttbrese, also known as "Putter." Following suit, Joel's cousin, senior Eric Millis took in freshman Jacob McNulty as his mentee. Senior Jordan Tranberg brought in freshman Johnathon Arnaud under his wing. Arnaud is commonly known as "Finny" to the team. 
These seniors take time out of their busy schedules to help their freshman in all areas of life. From improving their hockey skills on the ice to teaching them the finer points of chugging Arizona fruit punch from Kwik Trip off the ice, they have taught their freshman many things.
"It's like you just know he's the right one," said Joel. "It was destiny."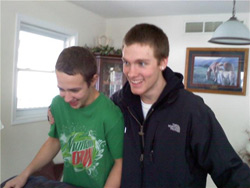 All three mentors agree that they truly enjoy helping their freshman.
"[Joel is] the best. He's unbeatable as a mentor," said Puttbrese.
And the praise didn't stop there. Puttbrese especially enjoys the frequent trips to Kwik Trip to get Arizonas, fruit punch, of course.
"Not only do we get Arizonas, fruit punch of course, but I teach him the do's and don'ts of hockey practice and of course teach him how to properly bark," said Joel.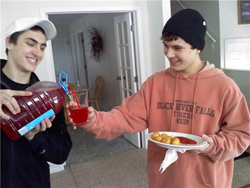 Eric Millis felt similar to his freshman, McNulty. Eric thought that his time as McNulty's mentor has really formed him into a good kid. According to Eric, McNulty and him are practically twins. These two spend time together at McDonald's, team dinners, and at Eric's house where they frequently eat corn dogs.
"Eric has a lot of heart and he's a great man," said McNulty.
Clearly these two have grown to be more than just teammates. They are now great friends.
"Beams of light from the sky came down and choose our freshman," said Tranberg about his experience with choosing Arnaud as his mentee.
Arnaud says he sees Tranberg not as a mentor but as an older brother. These two have bonded a lot; especially over hockey, by working hard in the weightroom and at practices.
"He's become a lot stronger and this has helped him become the leading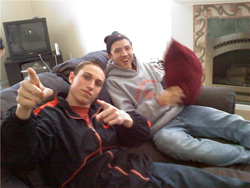 scorer of all the freshman." said Tranberg.
These three duos have spent a lot of time together over the past season and one thing they all agree on is that this has been one of the "funnest" seasons to date. Seniors Joel, Eric and Jordan all hope to see their respective freshman go on to succeed in hockey and hope they enjoy the rest of the time they have in high school.
View Comments (4)