BRFHS Publications Shine at CVSPA Awards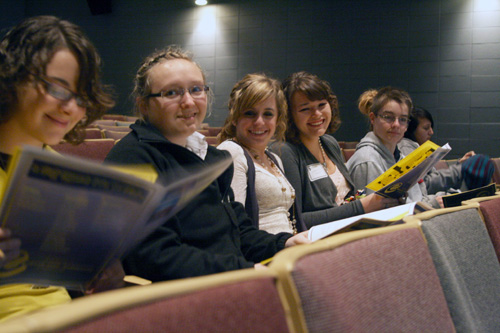 The BRFHS Publications staff won many high honors yesterday at the CVSPA conference. 
Seven current Publications students traveled to the 2010 Chippewa Valley Scholastic Press Association (CVSPA) conference hosted at UW-Eau Claire. The conference is an opportunity for area high school newspaper and yearbook students to earn recognition for their hard work. 
"[This year] we won a lot of awards. It was pretty exciting to be recognized for something," said senior newspaper editor Austin Marg. 
The Publications staff brought home 19 separate awards for both newspaper and yearbook, sweeping some of the categories in the process. 
"We had many individual writers win awards for their editorials," said Marg. 
Two of the top awards won by the Publications staff were the General Excellence Award for both newspaper and yearbook. 
"It is an award for the overall appearance of the newspaper and yearbook: writing, captions and photography," said Marg, "It is a big deal." 
At last year's CVSPA conference, the publications staff came home disappointed after winning only a few awards. This year BRFHS competed in the middle level school division, which included schools with 375-600 students. According to Publications adviser Julie Tiedens, this change has made the competition more fair. 
"We used to compete against schools like Wausau West," said Tiedens. "This format of three tiers is more like the format used by national student press groups." 
Last year, the publications staff drifted from the traditional newspaper to a monthly literary magazine. After a trial run, they finally settled with an online digital newspaper. The staff believes it was a beneficial move. 
"The staff knew they had an audience and they kept striving for more," said Tiedens. "I think that because they were doing something new and exciting, that pushed them, too." 
Current yearbook editor Rikka Bakken agrees. 
"I would be sitting in class and I would see people actually going online in their spare time and looking at the stories," said the sophomore. 
Bakken was one of the several writers to receive an award at the conference. 
"I won an award in the news writing category for my story on the drug testing from last year," said Bakken. 
The story was written following the start of the drug testing discussion last year. It was about the procedure of the  debated possibility of the new drug testing policy and what the Student Senate's involvement was. 
Winning the award made Bakken feel good that her article had an impact. 
"I remember last year one of my teachers actually used it in my U.S. history class," said Bakken. "I thought that was insane." 
The numerous honors and awards won at the CVSPA conference, has heightened the drive for the newspapers future endeavors. 
"It makes me feel proud about working on the staff. I want to continue to work hard to earn more awards," said Marg. 
Current BRFHS students earning awards were: Rikka Bakken (first place-news writing and third place-sports writing), Lindsey Breheim (third place, reviews), Gregg Koboski (first and second place, reviews), Kristin (second place-best of show yearbook story) and Alex Turner (first place-editorial and second place- features). 
Students interested in getting involved in Publications can see Rikka Bakken or Austin Marg–or sign up for Writing 1 or Writing 2 next year. See the full list of awards.
Leave a Comment