Football earns Coulee Conference title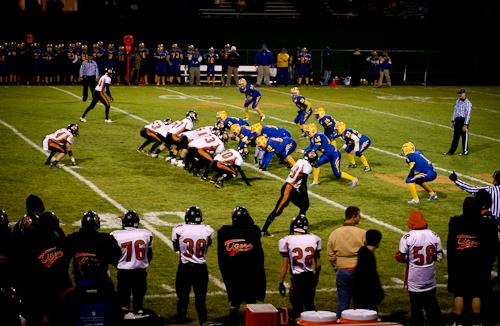 The 2010 Black River Falls Tigers are once again Coulee Conference Champions.
This year, the Tigers had a regular season record of 7-2, and only losing once in the conference. The Tigers are now back to back Coulee Conference Champions.
"It is absolutely euphoric, it's the feeling of my life," said senior Robert Gerzsik.
The Tigers didn't have it easy to become the 2010 Coulee Conference Champions. They had some hard battles with some good teams in the conference.
"I thought we would do pretty good, but I wasn't expecting Coulee Conference Champions," said junior Dylan Hill.
The 2010 Tigers had a lot of weapons on both sides of the ball and that really helped if one side wasn't having a great night. Greg VonRuden led the Tigers in passing and Jake Perner led the team as the running back. A solid group of receivers like Jordan Millis, Adam Decorah and Robert Gerzsik added their talents. On defense everybody is important to put pressure and that everybody hustles to tackle the ball carrier.
At the beginning of the season the Tigers set some goals for themselves.
"Some of our goals for the season were to have a good record, win the Coulee Conference, and to go deep into the playoffs," said sophomore Christian Stiehl. The goals for the Tigers were lived up to and now they look to make a deep run in the playoffs
"Another one of our goals was to go to state and for seniors to go out on top," said Gerzsik.
The team went through a lot of things during the season, but they have a group to bring them back up if they go down.
"I think we are a very close group this year," said Hill.
This year for Tiger football there was a lot of highs and some downs. Some of the highs during the season were the Tigers starting off hot and averaged scoring about 50 points a game in the first couple games.
Some of the downs in the season were just a couple of key injuries in the middle of the season. Of two losses, the biggest was the homecoming game where the Tigers just came up short at the end.
"I was very happy with the regular season. I thought we did a great job," said Stiehl.
View Comments (1)