Playoff Football Game: Behind the Scenes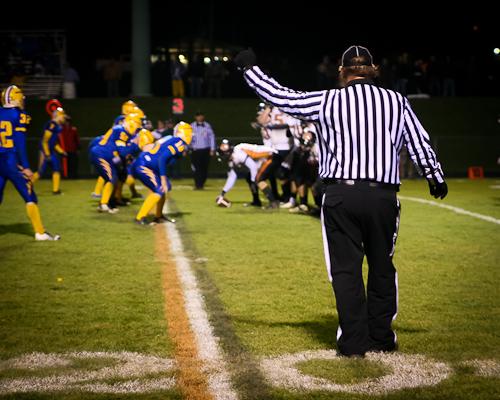 WHERE: Black River Falls High School
WHO: BRF Tigers v. Rice Lake Warriors
WHEN: October 26 at 7:00pm
So, the football game started out great.
It was cold with a chance of rain, not to mention the wind. Wind clocked between  inds were to 40 mph, with gusts of up to 60 mph.
Alongside football players, coaches and officials, marching band members braved the extreme weather.
The band went out on the field with five minutes on the clock, as per usual. Plumes were not involved. In the given weather, the accessories wouldn't have stayed on for very long, or would have been bald by the time the band got back inside.
Meghan Nortman, senior and student conductor said that it wasn't very hard to direct in the wind. "I was laughing and watching all the faces [of the people on the field]," said Nortman, "people were losing their music all over!
The wind was so bad, that junior sousaphone player Gregg Koboski had to fight with his instrument to keep it from flying away and taking him with it. Freshman Ben Sherman and was almost blown away by the cymbals, and the rest of the crew attempted hold onto their music so it wouldn't litter the field.
The colorguard's flags were flying away from them, making it difficult.
"It was crazy," said senior Emiley Rios, colorguard captain. "Ms. A was laughing so hard!" Rios said that even though it was so windy, the game last night was probably the best performance the colorguard had ever done. The levels of concentration being used to hold onto the flags was immeasurable.
After pregame, the band went inside to change, and by the time it returned, they were pleasantly surprised to see that the team had gained six points while they were changing inside.
The benches were very cold, even with the blankets and layers that everybody had wrapped around them, as well as all the hot chocolate and cheese curds that the concessions stands were selling. Juniors Ali Meek and Leah Pennekamp were huddled together at the top of the stands. Wrapped in several blankets, wearing boots, gloves and equipped with ponchos and umbrellas, even these two were freezing in the cold.
"I got these gloves for my steering wheel, " Meek said. "It is leather and my hands were sticking. I got 'em at Walmart!"
"I got these ones from the band room," said Pennekamp. "They are the ones we use with our uniforms."
Regardless of whether they were from Walmart, the band room, or knitted lovingly by a grandparent, gloves and mittens were a must last night.
Leave a Comment