Games on Facebook: Frontierville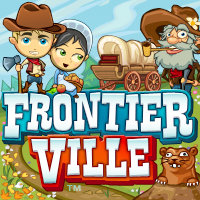 Frontierville is a game on Facebook developed by the Zynga company. Frontierville shows you what its like to be a pioneer in the Old West.
Frontierville takes hard work, skill and dedication. To play Frontierville you need have dedication to your crops, your animals and your missions. F rontierville is different than Farmville in that players have missions to complete. For example, in some missions you have to have a certain building on your homestead to complete, or you might have to plant a certain amount of wheat, corn, sunflowers, etc; or maybe even buy a certain amount of pigs, cows, mules, sheep, chickens, etc.
Another thing making Frontierville a one-of-a-kind game is having a family. After you complete certain missions and pass certain levels, you can have a husband or wife and a child.
"I've been waiting for my kid for a long time!" said sophomore Carly McPeak.
On Frontierville you have reputation. When you visit someone's homestead and help them out by harvesting their crops, feeding or grooming their animals, cutting down their trees, clearing grass and flowers and many other tasks, you get reputation points. Once players get a certain amount of reputation,  they level up in reputation points and get a reward.
Frontierville has its faults, too. When your clearing or collecting things, it can sometimes turn into a hassle. When you cut down trees bears come on your homestead, when you're harvesting your crops groundhogs come on your homestead, when you're clearing grass, flowers, cactuses, etc.,  rattlesnakes come on your homestead, and when you collect from your animals (usually chickens), foxes come on your homestead.
"I built something on my homestead so that groundhogs don't come on it anymore," said senior Emiley Rios.
Another thing is the trees, grass, cactuses, flowers, rocks, skulls and thorns that take up space on your homesteads. You can clear them off of your homestead for coins and experience. Whether your clearing space to place something, or clearing a cacti for a mission, snakes and bears can sometimes make it a tough task to complete.
Interview with two Frontierville lovers: sophomore Carly McPeak and senior Emiley Rios.
What do you like most about Frontierville?
Carly (C): I like that its way better than Farmville, and it's really interactive.
Emiley (E): [I like] how you have goals to work towards and missions to complete; and the cute baby animals are so adorable!
What level are you on?
C: Level 22 [as of October 20]
E: Level 29 [as of October 17]
How often do you play Frontierville?
C: I play it everyday! I love it so much. Everytime I go on Facebook I have to check my homestead. I go on every morning before school, after-school, and before I go to bed. I'm an addict.
E: Probably four or five times a week.
What got you started on playing Frontierville?
C: My best friend plays it and she told me I should play, too. It's a lot of fun.
E: My mom started playing it and then she told me to.
Do you play any other games on Facebook?
C: At this time, no. My time is devoted to Frontierville. I used to play Cafe World and Fishville for a while but then I stopped. I used to be addicted to Farmville, but now I'm addicted to Frontierville.
E: Nope! My time is for Frontierville and Frontierville only. I used to play Fishville, Texas Hold 'Em, Family Feud and Farmville.
Leave a Comment