Paint On: Yes, Paint Off: Gross!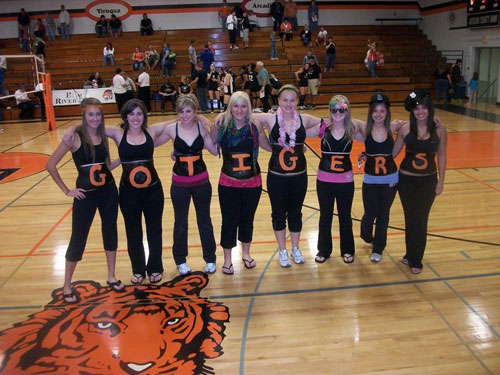 Painting up is a spirited tradition at BRFHS sporting events, but is it that easy to shed the cotton tee and paint on an acrylic one? 
The term 'painting up' refers to painting one's stomach and/or chest with school colors, and often spelling out a spirited phrase. At BRFHS you will most often see 'Go Tigers' painted on students' bare skin. 
In the first half of October there were groups of ambitious students pumping up tiger spirit at home volleyball games. The first was a cluster of tiger cheerleaders supporting the tiger volleyball team. For junior Micayla, it was her first time painting up. 
"It was weird for me to be at school without a shirt on, but after a while I became more comfortable and it wasn't a big deal," said Micayla. 
Whether a student has or has not partaken in this ritual, he or she would agree that it can be an awkward situation. It takes time and a certain comfort and confidence level must be achieved. 
"The fact that I'm doing my part in being loud and proud for the tigers keeps me confident while I'm shirtless in front of everyone," said senior Emily Dunneisen, "It's more reason to get the crowd pumped." 
These varsity football cheerleaders both agreed that it is a fun experience to paint up for a game. 
"I've painted up twice now. The last time at the home volleyball game, I had the most fun because I was with my cheer girls," said Dunneisen. 
"It was fun to change the words of our football cheers for volleyball. It gets everyone fired up—the players and the fans," said Micayla. 
A group of painted gentlemen were to follow at the next home tiger volleyball game. Senior Byron Finck was a newcomer to the experience as well. 
"I wanted to paint up to show my spirit and show support for the senior players, as it was their last home game," said Finck. 
The art of the activity can be challenging and the lettering is strategic. Hopefully the paint dries before you have to drive to school. Then which letter do you want to be and whose number do you want to wear? Normally the ends of the phrase are avoided because of a fear of loneliness, however being a part of the group will end up positively. 
"Being the 'G' in 'GO', I got to walk in first. Then people know the girls are coming," said Dunneisen. 
When it comes to painting up, are guys or girls more precise? We'll leave that up to the observation of the crowd. So it might be important to include an artist with good handwriting in the group. 
"Sam [Ripp] was the best painter," said Finck. 
So ask your friends about jumping out of your comfort zones to support the Black River Falls Tigers. Anyone can participate, different sizes and ages welcome. It's encouraged to communicate with classmates to get involved with tiger athletics as the winter sports season approaches.
Leave a Comment