Movie Review: Ten Inch Hero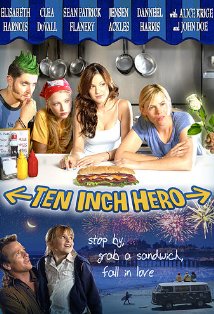 "Stop by, grab a sandwich, fall in love."
Starring: Elisabeth Harnois, Clea DuVall, Jensen Ackles, Danneel Harris, Sean Patrick Flannery, John Doe, and Alice Krige. 
Ten Inch Hero is a movie that most of the population of Black River Falls has probably never heard of. Released in 2007, Ten Inch Hero is a romantic dramedy about Piper (Harnois) who moves to Santa Cruz eight years after her pregnancy at age 15, on a search to find her daughter, who was adopted. She immediately applies at the Beach City Grill (an alternative sandwich shop, kind of an indie version of Subway) after seeing the "HELP WANTED (normal people need not apply)" sign propped up in the window. Following an impromptu interview (Trucker- Elvis? Piper-dead… T- Mariah Carey? P-you mean her acting career?) Piper is hired by Trucker (Doe) the surfer-hippie owner of the shop, who is in love with Zo the Crystal Shop Lady (Krige).
The Beach City Grill becomes a very interesting place to work, Piper soon discovers. Her fellow workers are: 
Jen (Du Vall), the computer-nerd daughter of a preacher, who moved to Santa Cruz to make life more interesting, but fell back into her quiet rut. She struggles throughout the movie with her decision to meet with Fuzzy22, her online friend whom she talks about everything with, but agreed to exchange no details about themselves.
Tish (Harris) is the promiscuous cashier who has a new man every night. She finally settles for Tadd, a big jerk, who is always followed around by his bestie, Brad. She doesn't realize it, but Priestley (we'll get to him in a minute) is head over heels in love with her.
Priestley (Ackles), is the… there is not really a word to describe him…. Punk? No… Kilt wearing weirdo? Not quite…. Cheeky hotshot who wears saucy t-shirts? That's about as close as you can get. He gets sent on a shopping trip for the Beach City Grill. What is he shopping for? Watch the movie to find out. 
Overall, Ten Inch Hero is a heartwarming, feel good movie. I recommend it to mature teens (it is rated R). Ten Inch Hero would make a good date movie… not so much with your parents, as there are some awkward scenes (naked people, short but awkward sex scene…) but generally speaking, is a great, funny, cute movie that will definitely make you laugh.
View Comments (3)