Movie Review: Charlie St .Cloud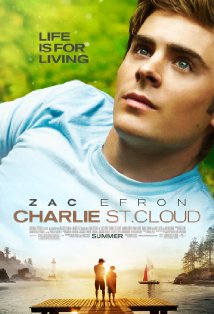 Any movie featuring Zac Efron has a lot of hype, however, it sounds like students at BRFHS have mixed opinions after seeing his new romantic drama, Charlie St. Cloud. 
This film premiered in theaters on July 30. It had an eclectic cast, starring Efron (Charlie St. Cloud), Charlie Tahan (Sam St. Cloud) and Amanda Crew (Tess Carroll). The actors were quirky, but all worked very well together. 
Charlie St. Cloud is a young man overcome by grief at the death of his younger brother, so much so that he takes a job as caretaker of the ceremony in which his brother is buried. Charlie has a special lasting bond with his brother, though, as he can see him. 
Many viewers can relate to the plot of this movie because we have all lost something or someone important to us before. The beginning of this movie had a very sad tone. I felt sympathetic for the main character Charlie after he lost his brother in a car crash. It was strange that he couldn't carry on with his life and future plans. I just wanted to give him a hug so he would feel better…and because he is Zac Efron. 
It was great to see Charlie find something, or should I say someone, to live for years after his brother's death. Charlie reconnects with a girl from high school, Tess Carrroll. It was obvious that they were meant for each other. They shared a love for sailing and adventure, similar to the connection Charlie had with his brother Sam. 
I think female viewers would appreciate the romance displayed by Efron in this film. It makes you want to say, "Aww!" 
Some people didn't enjoy the film because it had some twists and turns in the plot, which can throw you a bit. However, if you pay attention you will understand every part of this interesting love story. Zac Efron proves again through this film that he is more than a musical actor.
Leave a Comment