Tiger Tennis Ends Their Season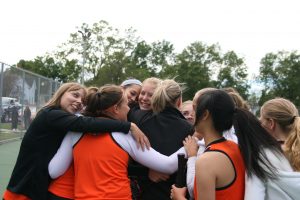 The girl's tennis team competed in their final matches bringing an end to their season.
 The final two matches of the season before sub-sectionals were both non-conference. On September 28 the team traveled to Eau Claire to take on the Regis Ramblers, but came up without any individual wins. The Lady Tigers then traveled to La Crosse on September 30 to take on La Crosse Aquinas. The ladies lost 0-7.
 After two losses, the tennis team was ready for post-season play. On October 4, the ladies traveled to UW-La Crosse for a nine-team sub-sectional. Winning their first matches were singles players No. 1 Kate Hegna and No. 2 Abby Johnson and No. 1 doubles players Melinda Laudon and Savanna Markee. However, in the next matches they played, all the teams fell short.
 "[The matches were] good. We played really hard and they had a good team, too," said Senior Melinda Laudon
 With these losses, the tennis team is officially done with their season. Overall, they finished the season with a record of 2-7, with many individual wins added to the total
  "It was a good season. It will be fun to see the girls come back next year," said Laudon
Leave a Comment