A Review of Homecoming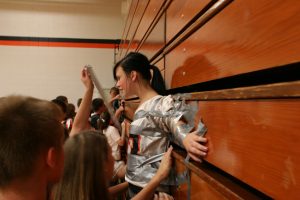 Finally, Homecoming comes to a close, and the Pep club did a good job making 2010 a year to remember. The dress up days were a success, many students and teachers participated in some if not all of the five dress up days.
 Participation in Monday's dress up was hard for some people because of forgetting over the weekend. Opposite day brang about a variety of inside-out shirts, opposite colors and people dressing like the opposite sex.
 Nerd day gave many people the prime opportunity to show their inner geek. Taped glasses and plaid dominated the hallways on Tuesday.
 "[The dress up days] went well; a lot of people participated " sophomore Hannah Fendt said.
 Wednesday was Class Color day, the bright luminous pigment littered the classes, freshmen being yellow, sophomores being green, juniors being red, seniors being blue and staff being pink. Some took it a step further and combined the day into a class year day.
 Thursday was Salad Dressing day; Each class had their type of dressing. Freshmen wore berets as part of their french dressing. Sophomores hung 10 with tropical Thousand Island. Juniors round 'em up with Ranch. Seniors dressed in togas as Caesar; and Faculty wore Blue Cheese.
 Friday was Black and Orange day, the student really showed their Tiger Pride at the assembly, parade, and the big game.
 " The games were a lot of fun; a lot of people were good sports about it," Fendt said.
Leave a Comment