We've Got Spirit, How 'bout You?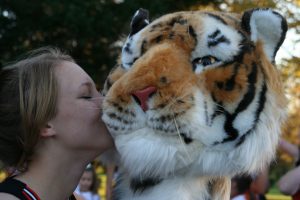 Athletic Director Tom Leadholm talks about Black River Falls High School's new school spirit campaign entitled 'Tiger Pride'.
 In the eyes of some students and teachers, BRFHS school spirit and participation has been down in the past couple of years. To address the issue, Leadholm created a spirit squad of cheerleaders to come up with incentives for students to attend sporting events.
 "We got together and ordered some cool prizes for students to win," said Leadholm.
 Since the school year has begun, two fans have been chosen each week to receive a prize and their names are posted in the cafeteria.
 "The fan of the week competition has been going great. I've noticed that students have fun keeping track of who is winning the title each week," said Leadholm.
 These incentives for students have noticeably increased the amount of students who attend home games. For example, a group of male students painted their bodies at the home volleyball game on October 4. The Tiger girls were victorious that night over Onalaska Luther.
 Many students are just interested in the great prizes including t-shirts, lanyards, draw string bags and window decals.
 "Some students have come up to me asking for a t-shirt, but of course they have to earn it," said Leadholm.
 Some fans that have already won have been itching to win again. Leadholm addressed the inquiry about winning more than once.
 "A student cannot win 'Fan of the Week' more than once per sports season.  At the end of the season, the spirit squad will choose a 'Fan of the Season'. Then, the next season a student is eligible to win again," said Leadholm.
 The school spirit displayed at the games since the beginning of the 2010 school year has obviously grown and Leadholm is happy to see that. Let's keep attendance up at the remaining football and volleyball games and cross country meets.
Leave a Comment