Tigers Take a Tough Loss during Homecoming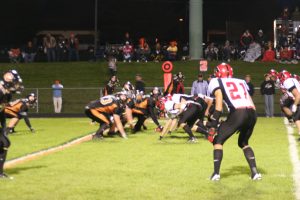 The Homecoming game didn't turn out that great for the Tigers last Friday.
The game resulted in a loss to Arcadia 34-38. It was a cold night, but the Tigers kept fighting down to the last few seconds. With this loss, it puts the Tigers to an overall 4-2 record.  
There were a lot of fans who came out and supported the tigers on the cold Friday night. The Tigers might have come up a little short, but the Tiger spirit was still there.
There were high hopes for the Tigers.
"Perner is a beast so we will rock Arcadia," said senior Eric Helstad.
Helstad likes to call senior Jake Perner "Superman" because "when he's on the field, he is like a super hero."
"This is just a minor setback for the team. The rest of the season will be better. I'm a loyal Tiger fan and support my boys," said Helstad.  "Jake is my boy!"
Many fans thought that the game didn't go their way.
"There were many distractions over the whole week. T-ping kept some of the football players out late and they didn't get the good night sleep like they should have," said Helstad.
"When it came down to the game, the boys were just not quite ready for everything," said Helstad.
Fans are still hopeful for the team.
"This might be a loss, but the Tigers still have half a season to do work," said sophomore Jacob Mcnulty.
This isn't the end of the road for the Tigers; they still have more to come.
"The Homecoming game is always a big game and this loss will hurt, but they just have to fight through it and practice and win more games," said Mcnulty.
"This just shows that there is room for improvement for the team. This will just make the boys hungry for a win," said Helstad. "I had a fun homecoming week. It's always nice to win the football game but the team tried hard and that's all you can ask for I guess."
"Even though we didn't win the game, I still had fun with all the stuff that went on during the week," said Mcnulty.
 The tigers had a tough loss but will bounce back again next week against GET. This game will be in GET at 7pm.
View Comments (1)