Methodist Church Shelters Flood Victims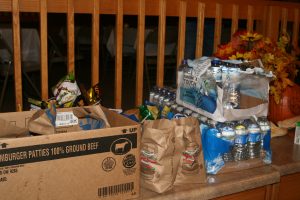 In response to the flooding on Thursday, the American Red Cross sheltered a total of 20 people. Residents of the Grove Apartment Buildings and homes close to the rising river were asked to leave their homes for their safety.
"We began evacuation[September 23] at about six or seven," said volunteer Jane Ramey.
Initially, the evacuation was voluntary and residents had the choice to either stay in their homes or take shelter in the Methodist Church.
"Then, they reassessed the situation and made them come here for safety purposes," said Ramey.
Eight volunteers from the American Red Cross helped out the flooding victims and rotated shifts. They came with a Red Cross trailer filled with enough supplies for 50 people, such as cots and blankets. Food was provided for the victims by Culvers, Burger King, McDonalds, and Kwik Trip. The organization decided to evacuate to the Methodist church due to arrangements with the organization.
"The Red Cross has agreements with different places," said volunteer Gary Anderson. "The facility depends on how many people we have. [Our Red Cross chapter] covers five counties."
Tenants of the Grove Apartments were impressed with the works of our chapter.
"They evacuated 38 people in an hour," said Grove Apartments resident Mary O'Donahue.
The victims were permitted to return to their homes on Friday at 3:30 p.m.
Leave a Comment