Taking On A New Scene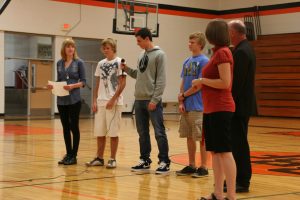 Traveling across the world to an entirely new environment can be very new, frightening and overwhelming. However, four exchange students here at BRFHS have signed up just for that.
For some of the exchange students it has been a long-held hope to come to the United States.
"I basically always wanted to come [to the United States]. It was always a dream," said Mareike 'Jo' Pfort,16-year-old exchange student from Munich, Germany.
While for others it was just on a whim.
"I didn't want to go to Australia, and the U.S. has big cars and McDonald's, so I came here," said 15-year-old Swedish exchange student Oskar Ydenius.
Some came to the United States for other reasons.
"I want to improve my English and learn another culture," said Slovakian exchange student Jakub Polerecky, 18.
"I want to get to know new people, culture and language," said Lukas Karl, a 16-year-old German exchange student. "I can always have a place in the [United States] to come back to."
All four students arrived in the United States shortly before school started. They spent the time fighting the time difference and adjusting to their host families. The people and American ideals were what caught their attention at first.
"Most people [here] are more chill and laid-back than in Sweden. Everything is bigger and better," said Ydenius.
"The school system is different than in Slovakia. You have a choice with your classes," said Polerecky. "It is easier."
The stereotypical America was also observed.
"Everything is bigger here and there are so many fast food restaurants," said Karl.
Polerecky said that in Slovakia the school chooses all your classes. A student does not have a choice. The other students have also realized some of the differences with their schools at home and BRFHS.
"It is cool that the school has sports and clubs. There is a lot of spirit," said Pfort. "We don't have it in Germany."
"The school is longer in Germany. It is more difficult, too," said Karl.
German schools normally run from the end of August to mid-July.
Karl added, "[In Germany] we have more classes and the tests are harder."
All four of the exchange students have taken English at their schools back home. Karl and Pfort, both from Germany, have had six years of English instruction, while Polerecky and Ydenius have had five years of instruction.
"I have only had five years of English as a class, but we start learning English in school [at age nine]," said Ydenius.
Karl, Ydenius and Polerecky have already gotten involved at BRFHS and Pfort is hoping to soon. Karl and Ydenius are on the cross country team and Polerecky is playing football. But all four students have very varied interests.  
Pfort said, "[In Germnany] I go to the movies, hang out with friends, listening to music: what most teenagers do."
"I play soccer and hockey, talk with friends and study [for school]," said Polerecky.
All four exchange students will be here for one year, with the expectation of Polerecky who will only stay at BRFHS for 6 months. Yet, all are excited and looking forward to spending their exchange year in Black River Falls.
"I am looking forward to meeting new people and learning the culture, " said Karl.
Leave a Comment