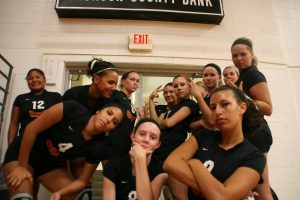 Senior Olivia Lee and Junior Katie Dvorak talk a little about the volleyball team
"We've all been playing together since pretty much freshman year, and we are ready to start winning some games." said Lee.
As of September 7 their record is 0 and 3.
"Our biggest threat right now is Westby. They have some pretty solid hitters, and we have a pretty good back row, and their hitters were just better," said Dvorak.
Leading the back row threat is Senior Meghan Nortman, who is also the team's Libro. A libro is the designated back row player on a team their jerseys are commonly different than the others on the team.
"She is my inspiration," said Lee.
Nortman can't lead that threat by herself– she needs a little help from junior Jessie Bere, junior Erica Olson, Lee, senior Emily Rios, junior Ali Meek–who is out with an injury for the next two weeks–and Dvorak.
Leading the offensive side of things in the front row would be senior Betsy Torkelson, sophomore Maria Lee, Dvorak, sophomore Katie Pettibone, senior Joanna Roybal, and junior Holland Hogden. They tigers also rely on their younger players.
"C-team has a lot of potential and we have some players on JV that will be ready to move up next year, you just have to work with people so they can grow into their abilities," said Lee.