The Last Good School Lunch I Ate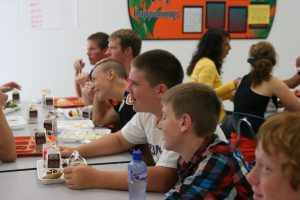 BRFHS students returned from summer vacation with a lot on their minds, and when it comes to lunch time, hunger is what's on their brains.
Blank white walls outlined by a bold black and orange boarder encompassing a room that sits less cluttered than before.
Also new were the Tiger paw prints and signs entitled, 'The Falls' Café' hung up.
Will the fresh coat of paint freshen students' old ideas about school lunch? The answer is unclear at this time; however some students have commented about their favorite school provided lunches already this fall, and from last year.
The question was, "What was the last good school lunch you ate?"
"Popcorn chicken and pretzel with cheese [was the last good school lunch that I ate]. It's the best," said sophomore Carly McPeak.
One popular lunch among students is served on Tuesdays: tacos. In addition, spaghetti with meat sauce and shredded cheese with garlic bread is often a crowd favorite.
Answering the question with much enthusiasm, freshman Kenzie Hoeschele said, "Crispito!"
"Definitely the dunker things. Like the cheese filled bread stuff…it's delicious," said junior Josh Hanson. 
Whether you can't wait to dig in, or you would rather opt for a peanut butter and jelly sandwich, it's likely that you'll continue to see your peers speed walking to the lunch room…just like they have since the third grade.
Leave a Comment