The Band Starts the year on a New Note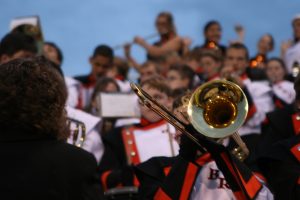 Band students in BRFHS have been practicing and preparing for many things, such as getting their pre-game ready, homecoming, and parades like Oktoberfest and Cranfest.
 Freshman this year are getting off to a good start.
 "The Freshman are very good this year, and we also have a good low brass section," said senior and student conductor Cassie Olson.
 The band also has a new face this year: director Paula Hardie. Hardie grew up in Blair and taught two years in Medford.
"The new director is taking over well. She has many new ideas and brings a lot of past experiences into the band. She's also very musically talented," said Olson. 
The band has been keeping very busy this year preparing for all the upcoming events. Aside from playing, they've been spicing it up a little by learning an occasional random fact, such as that Lady Gaga's real name being Stephanie Germonatta. The band also plans to put on a halftime show during the homecoming game.
Leave a Comment