Trend of the Moment: Pick-up Trucks
Trucks are no longer reserved for just farmers and moving furniture. Now pick-ups are invading the high school parking lot, as they take a turn towards a younger crowd.
The reasons that one might choose a truck over other vehicles can range greatly. Whether it be safety, utility or just pure power, a pick-up has it benefits.
"A truck has lots of power and the four-wheel drive is nice in the winter," said junior and proud pick-up owner Chad Bahnub.
"You sit up higher in a truck. I just feel safer in a truck than in a car," said senior Kelsey Peterson.
Peterson acquired her red Dodge Ram when she started driving. She needed a vehicle and her dad felt more comfortable with her driving a truck. What Peterson didn't know was that getting behind the wheel had an added bonus: fear.
"I find that cars give me the right-of-way a lot because they are scared of my truck," Peterson said.
Bahnub, who also owns a red Dodge Ram, agrees.
"[People] get out of my way. Whenever I pass someone, they slow down," said Bahnub
Petersen also added that another bonus of owning a pick-up is the storage.
"I could pretty much find anything in [my truck]," said Peterson.
On the first day of school at the picnic lunch, both Peterson and Bahnub used their trucks for an outside tailgate with their friends.
"We had about eight lawn chairs and people sat on the back of our trucks. It was a good way to start off the school year; together with friends having lunch on the back of a truck," said Petersen
"I felt proud and helpful that my truck was being used," said Bahnub.
Although trucks are multi-purposeful, they still hold true to be farm machines.
"I pick up mineral and haul it back to my farm," said Bahnub
Peterson added, "It's fun to haul things around and go drive through the fields."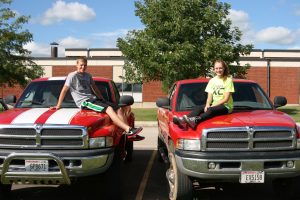 View Comments (1)