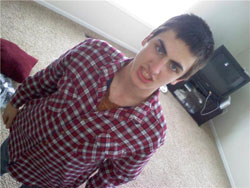 The flannel shirt and jacket have been worn by rugged outdoorsmen since the early days of the lumberjack. Now those same flannel shirts and jackets have been turned into the new fashion statement. Flannel shirts and jackets are now a common sight in retail stores around the nation.
Keeping up with trends can be expensive, but there are ways to find good bargains.
Senior Joel Millis has the cure to that.
"Flannels at TJ-Maxx are cheaper than those at the big chain stores. All my flannel shirts cost less than $15," said Millis.
With steals like this on flannel shirts, looking good and staying comfortable this winter will not leave you penniless.  
Flannel shirts are known to be very comfortable and go with many other clothes.
"Flannels go great with my spirit shirt," says senior Eric Millis.
Finding the right clothes to go with your flannel is very important. Spirit shirts, which are sold at Black River Falls Surplus, are an option for accesories to compliment your flannel.  
So, if fashion and looking good this winter are something you are interested in, a flannel shirt or jacket is a must have. Do not spend any more than $25 on a flannel shirt. Cheap, inexpensive flannel shirts are just as good as expensive ones.