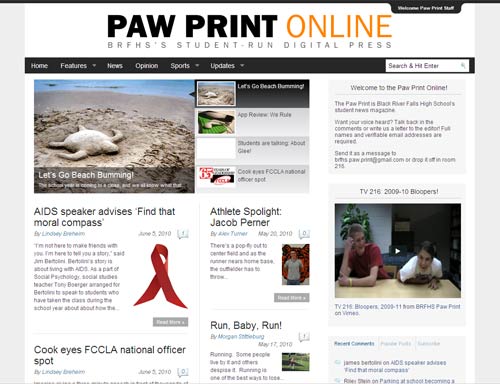 This year's newspaper has seen many changes this 2009-2010 year; from paper to gloss to going online.
In the past years the newspaper has been–a newspaper. But this year the editors and staffers decided to take a different approach, and ended up with the news magazine.
"The news magazine is more stylistic," senior Ryan Whaley said. 
In the past years the newspaper has been black and white, very few pictures, and some very inky paper.
 "[The new paper] doesn't have the inkyness," co-editor Chelsea Matalas said.
The new magazine style edition has made some improvments upon the old newspaper style. The magazine was in color, a new folding style, and new paper. The paper also came out monthly instead of bi-monthly.
At the semester another change was made to the Paw Print. The Paw Print went from print to the online world.
"I think it was a good way to go," Co-Editor Cory Roseth said.
The stories can be posted daily, so therefore they have a more timely effect. Posting is the job of the editors and they can often be seen over the laptops listening to music and putting the stories online.
"Music with Tiedens is fun because Tiedens doesn't like our music–but it's fun," senior Levi Miles.
Along with the online newspaper came the video broadcasting.
"We all thought it would be fun to do broadcasting," Matalas said.
The videos started with the Veterans Day Program. The video took quite awhile to get done, two weeks to be precise. But after awhile putting the videos together got quicker.
"It's fun having clips of videos and just putting them all together," Matalas said.
Matalas is the editor in chief-video; this job entails a lot of work. She records the videos, puts the clips together and posts the videos online.
"Making videos is really fun. After putting it all together, the outcome is awesome," Matalas said.
Besides the fun videos get posted there is also the weekly Tiger News with Cory Roseth and Morgan Stittleburg.
"[Being an anchor] was a really fun experience," sports editor Morgan Stittleburg said.
The seniors in the class have high hopes for the Paw Print in the future and can only think it can better from here.
"It was a great starting point, [at it got] bigger and better," Matalas said.
"I think it can only get better, we got a really good start this year. It can only got up from here," senior Emily Lahmayer said.