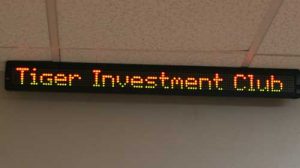 To inform the community of what exactly TIC does, the group held a luncheon on May 19 at the Skyline Golf Course. At the luncheon, TIC president junior Jake Perner and vice-president senior Cory Roseth presented to community members. Community members enjoyed a lovely meal of food and partook in a game of 'guess the CEO'.
The TIC currently holds stock in Google, Baidu, Walmart, Apple, General Dynamics and other stocks that continue to be monitored by the TIC and their adviser, Kris Wrobel. These stocks will either be sold at the end of the year or have a trailing stop loss order put on them. Trailing stop loss orders are a sort of cushion that can be put on stocks so that if they lose enough value, the stock will be sold automatically.
With all the money made by the TIC, they help the school buy new things such as sports equipment, class materials and new technology for clubs in the school. The clubs, sports or classes use an application system to apply for the items they desire. Then the TIC meets with the administration to decide which of the purchases will be made.