Keeping it Cool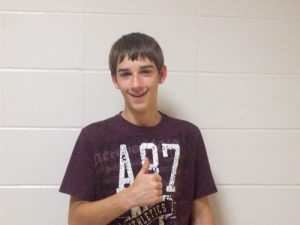 Freshman track athlete Jefferey Modica seems to always have a smile on his face during practice.
"[I enjoy] running with friends and the friendly competition," said Modica. "I like being active."
Modica keeps himself busy; he runs in the 100 meter dash, 110 hurdles, 200, relays and 300 hurdles.
"300 hurdles [are the hardest] because they're so long," said Modica.
The exercise is fun, but for Modica socializing with friends is a crucial part of the track experience. Having fun conversations keeps Modica and his friends cheery.
"I get to see my best buds, Kyle and Brian, and everyone else,"said Modica. "We joke and make it a fun time."
It's not all laughing and messing around though. Getting better at his events is also important to Modica, and he gets plenty of help along the way.
"Mr. Moretti and Mr. Thurow [are my favorite coaches]," said Modica. " Moretti believes in me, and always believes I can get better. And Thurow is teaching me how to do the long jump."
Not only are his coaches there for him, but his friends are too.
"Bryan Smetana and Dustin Dittner [are inspirational to me]. They always cheer me on and help me to get better," said Modica. "They're always there for me."
Leave a Comment