Restaurant Review: New Beginnings For Gimi's BRF Restaurant
Gimi's BRF Family Restaurant is one of the newest additions to the food scene in Black River Falls, serving anything from pancakes and french toast for breakfast to soups and burgers for dinner.
When I first arrived at the restaurant, they were pretty busy and didn't seem to have many staffers, but I got seated right away, which made me super happy. That gave me the impression that they put their customers first. Almost every other table was full when I was there at around lunch. I thought the customer service was overall a 10 out of 10. All the employees were super kind and friendly.
I was able to tell that most of them were overwhelmed with the lack of workers, and it got busy during lunchtime. They were rushing around with frustration on their faces. It is clear that they are still trying to work around the struggles and challenges of beginning a new business. I believe that once they get the hang of everything they will be successful. While I was eating, my waiter checked up on me two or three times to make sure I was enjoying my food and to see if I needed anything else.
The menu consisted of many different styles of food. It included different kinds of pasta, burgers, breakfast items, shrimp and stir fry. It reminded me of a bit of the food Perkins serves. My first time eating there I ordered a water with cinnamon french toast with sausage and bacon. My food took around 15 minutes, which is pretty fast for most restaurants. The french toast had the perfect amount of cinnamon that gave it that comforting flavor along with the warm maple syrup. My sausage was cooked perfectly and my bacon had the right amount of fat and crunch to it. They did not disappoint!
My first impression of the food was that it smelled like home, which made me feel at home. I think that is something so important for restaurants. Having that food that makes customers feel at home and gives them comfort that will make them feel welcomed. My food looked and tasted divine.
When first walking into the restaurant, the first thing I noticed was that there wasn't a whole lot of interior decor. The walls were empty and the color of the walls and booth were bland. I do think that decoration could improve. The room didn't consist of any pictures or greenery; it almost felt bare inside. Restaurants need to have special environments to satisfy customers. However, take into consideration that this is a new restaurant, and opening up after COVID-19 can be very difficult.
Overall, I was really impressed with Gimi's BRF Family Restaurant. Everyone is all really hard-working and cares for their customers. There is room for improvement just like for any new businesses. I am excited for what is to come for them and their business.
Leave a Comment
About the Contributor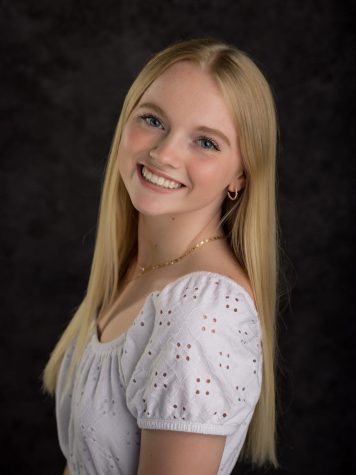 Sierra Campbell, Paw Print Live Executive Producer
Sierra Campbell is a senior at Black River Falls High School. This is her third year taking the SRL class, and she is so excited to be the Paw Print's editor-in-chief. Sierra is always interested in what is happening around her. In her free time, she enjoys playing volleyball and spending time with her friends.