Flags pulled
Homecoming traditions shouldn't change
Students at Black River Falls High School face a whirl of emotions as Powderpuff football and men's volleyball have switched to coed kickball and coed volleyball. 
Powderpuff should be brought back because when the decision was made traditions were not considered, the sport is no more dangerous than others, and it doesn't promote student voice and choice. 
For years, students would spend the Sunday of homecoming week decorating hallways or entryways as a class, watching the men's team play volleyball and the girls play flag football. Traditions are important to maintain, and this tradition has always been a swap of the main fall mens' and womens' sports. It gives them the opportunity to try each other's sport with a high-energy crowd of students. 
This year concerns about womens' physical health have been a large reason to see change.  On the flip side of that argument, each student decides whether or not he or she wants to participate in the spirit activities and games that happen on homecoming Sunday. The concern is injury and students understand that concern; however, they want to participate in what is fun for them, which isn't a game students only play in gym class. 
The concern for health can be brought a step further as staff want to bring back a tradition of bed races. Bed races are an event in which each class builds a bed out of bicycle tires and an old bed frame. A pair of students are pushed by other students on an unsafely built bed bike down a road unsure of when they are stopping, potentially flying off. While this was okayed to bring back, the opportunity for girls to run on the football field and play flag football was taken away because it could injure them. 
In the face of COVID,  flag football is a sport with little contact that students enjoy participating in and others enjoy watching. Our football players participate as coaches for the girls' teams just as the girls do for volleyball. Each participant whether watching, playing or coaching is excited about the events and brings the energy we look for at other sporting events. 
Another reason given to cancel flag football is the contact with COVID. Flag football means touching the flag on someone, not entirely tackling them like the football players are currently doing. The students playing flag football would be masked, unlike the boys who are playing against people from other schools. As well, what's the difference in contact between the football the girls are using vs. the football the boys are using. Each ball is being placed into different players' hands no matter which way the game is being played, tackle or flag. 
Christa Green and Christopher Harrington of the Michigan Virtual Learning Research Institute say that when you give students a choice you are giving them a voice, but it requires a "leap of faith," which can be a difficult step for teachers to take. When you empower students to make decisions for themselves you are giving students ownership of their learning and their activities in school.   
The administration wants to implement students' voice and choice to help improve their engagement in the classroom and involvement in extracurricular activities like sports, music art, and spirit week events. Each of these examples helps students stay engaged and help them look forward to school. The decision to take away flag football was a disservice to students, not taking into consideration how they feel about the topic. 
Overall, it's the students' homecoming. For the seniors, it's their last chance to come together with their classmates in the light of homecoming events and the spirit that's brought forth with it. This year's schedule of events will see a lack of participation due to the new events taking place. Traditions are important. Student voice is important. Taking that away from students takes away the excitement surrounding the topic.
Leave a Comment
About the Contributor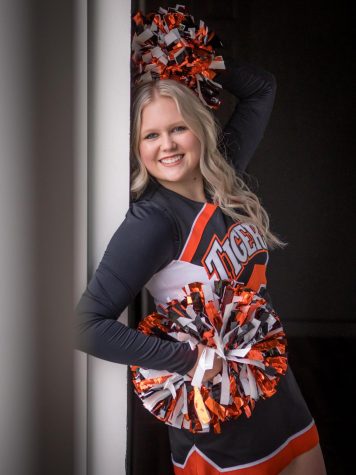 Faith Leisgang, reporter
Faith Leisgang is a senior at Black River Falls High School, and it's her first year as a reporter for the Paw Print. She enjoys covering stories that relate directly to the students, mainly sports coverage and other enjoyable student activities. She is the captain of the cheerleading team and is a part of the Shooting Tigers sporting clays, trap, and skeet team. She is excited to keep you updated on the happenings with Tiger Athletics this year!